Running between the station and Crabtree Lane, North Road is one of Lancing's main shopping streets. Adjacent to the station is the Merry Monk, once the Railway Hotel. Further north is Woolworth's, and Boots, which can be seen in the photograph below, in what was previously the Keymarket supermarket - closed when Keymarkets and Gateway merged. Gateway (now Somerfield) is still at the other end of North Road.

The photograph below is taken on the corner of North Road and Penstone Park, which runs to the right. This is where the Health Centre and Library are located.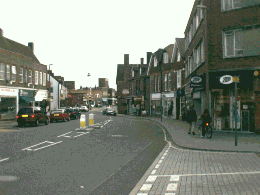 Moving further north is Culver Road, where Lancing Football Club have their ground. Between here and Penstone Park is the Post Office, Freshbrook School, the Queensway shopping square, and Penfold Cottages.

The mini-roundabout which can be seen in the photograph was recently added as part of traffic calming measures. Queens Parade hosts a wide variety of shops. The slightly taller part which can just be seen at the end of the parade is Somerfield, beyond that is the Lancing offices of Adur District Council. Beyond this is Lancing Tabernacle Church, the Police Station and the Holy Family Church.

Somewhat of a rarity today, branches of all four major banks are located in the short section between the station and Culver Road.
Whilst many of the older buildings have disappeared, Penfold Cottages still stand almost defiently in the middle of North Road, opposite Culver Road. On the extreme right of the picture can be seen the corner of Queensway Square which stands on the site of a small close which was known as Little Croft.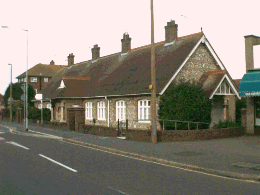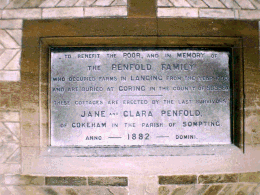 Click this picture for a larger version.