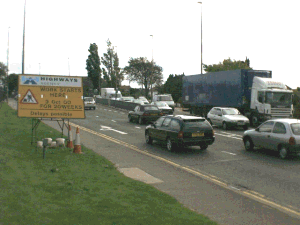 On and off throughout the summer of 2000, works have been taking place along the Sompting by-pass. Initially, a rough footpath was laid on the south side. This was to allow for the tarmac northern path to be closed to allow various services (predominently BT telephone lines) to be relocated. All this is just a prelude for the main works, which is the complete rebuilding of this section of the A27, commencing October 2000.

Motorists breezing past on 21 September when this photograph was taken are probably blissfully unaware of the magnitude of the works referred to in this warning sign. A similar sign has been in place at this location for some time to cover the previous works, which were done mainly overnight, and at quieter times during the day.
&nbsp
During the evening of Monday 2 October, the overtaking lanes of both carriageways were coned off, ready for the contractors to start digging out the crash barriers and central reservation, and to put in crossovers ready for the contraflows to be put into place. For a schedule of the works, please click on "schedule" below.

At a meeting with Sompting Parish Council on Wednesday 11 October, Steve Hooley of Costain spoke about the works, and progress. He also stressed that they aim to keep disturbance to a minimum. There is a helpline number, 08457 50 40 30, which members of the public can ring if they have any queries or complaints.

In addition, ALL vehicles that have anything to do with the roadworks, have been instructed that they are ONLY to use the A27. If any vehicles are spotted using any other roads to get to and from the site, please get the vehicle number and company, and report the matter to the helpline (08457 50 40 30).